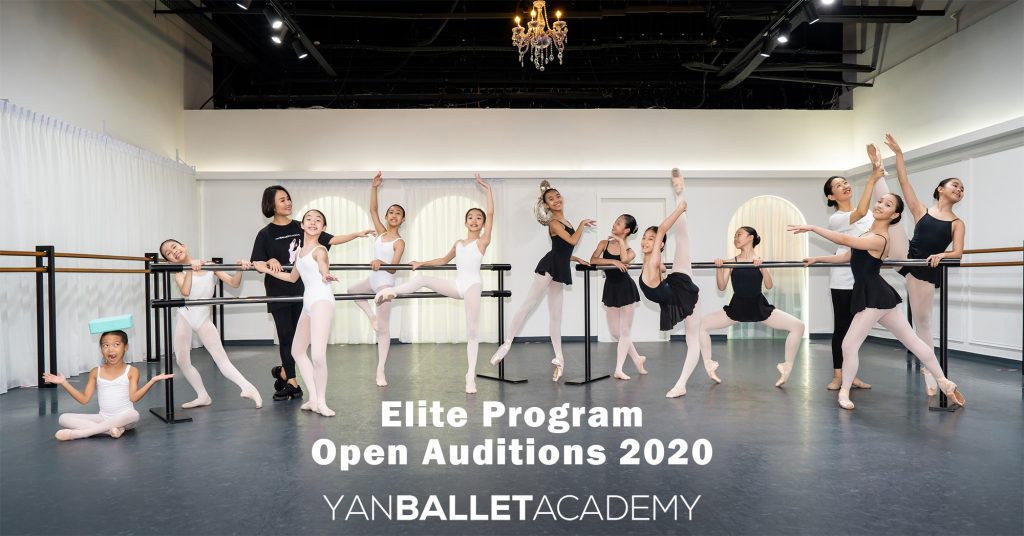 The Elite Program is taught by the founders of Yan Ballet Academy, Ms. Yan and Ms. Cao. The program focuses on improving the foundational skills of a ballerina and is based on Ms. Yan's 10 years experience as a leading soloist performer for the Shanghai Ballet Company. Ms. Yan developed the Elite program for students who want to become well rounded and strong dancers. Just doing RAD classes is not enough for those who wish to take ballet to the next level, to compete in international competitions or become professional dancers.
Elite program students will improve two core areas of a ballerina:
Ballet foundation: The foundational principles of body movement and form used in ballet. These are body alignment, turnout and toe pointing.
Body control: Strong muscles, high stamina and flexibility is required in order for a dancer to have good control over her body.
Our Elite Program has been taught since 2014 and the participants achieved extraordinary results: 116 gold & 56 silver medals in only 4 years. This includes the first ever Singaporean gold medal at the Asian Grand Prix Finals in Hong Kong. Our students have taken top awards and qualified for prestigious competitions like Youth America Grand Prix, Prix de Lausanne and Asian Grand Prix. Graduates of YBA have gone on to renowned professional schools like Elmhurst Ballet School (UK) and Kirov Academy of Ballet (Washington, DC).  Students for our Soloist Program are chosen from the Elite Program participants.
Elite Program Auditions 2020
The auditions will be held 1-30 September 2020 and are for both our Jurong East Branch and Tanjong Katong (KINEX) branch. The auditions are open for anyone to sign up.
The auditions will be held in two rounds:
Online auditions (1-30 September 2020): We will evaluate candidates based on the 3 submitted pose pictures. Results will be announced during September.
Physical auditions (end-September, early-October): We will schedule in-person auditions with Ms. Yan & Ms. Cao at our Bestway Centre branch. The Elite Program participants will be chosen during this last round. Results will be announced shortly after the auditions.
YBA will only accept a limited amount of participants, so submitting early is recommended. The next term of the YBA Elite Program will begin early October 2020. For more information or questions about YBA and our Elite and RAD classes, please check our classes page.
Email us at admin@yanballetacademy.com or call/WhatsApp at 65145175 if you have any questions.
On submission of the audition form, YBA will contact you with the round 1 results during September.
Elite Program Schedule
The Elite Program is taught on Saturdays at the Jurong East branch and Sundays at the Tanjong Katong branch, by Ms. Yan and Ms. Cao, with the below class schedule. Please note the the ages are just guidelines, students will be placed in the appropriate class based on ability. Note that the term fee covers 11 class sessions. If accepted to the Elite Program, students are required to do all their ballet training at YBA. All our class schedules and fees is available at our classes page.
Pre-Junior (5-6 years old): Sundays 2:00-3:00 pm – 410$/term
Junior A (7-8 years old): Sundays 3:00-4:00 pm – 410$/term
Junior B (9-10 years old): Sundays 4:00-5:00 pm – 410$/term
Senior A (11-12 years old): Sundays 5:00-6:30 pm – 450$/term
Senior B (13+ years old): Sundays 6:30-8:00 pm – 450$/term
Pose Requirements
After submitting the below audition form, you must prepare 3 poses in picture format (the poses must be the same as the three pictured below) and email them to admin@yanballetacademy.com. Please ensure each image is less than 3 MB in size. Please title the email with your child's full name and add "Elite Audition 2020". Please note that we will not publicly disclose these images or share with any 3rd parties. You must submit the 3 pose pictures by email to complete the audition application.